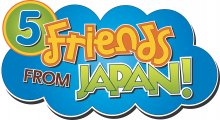 The exhibit was a collaboration between BCM and the Capital Children's Museum.  Visitors to the exhibit were invited to experience childhood in Japan through the eyes of five children.
The visit began in a typical Japanese classroom, where each of the five friends had a desk for visitors to explore.
After preparing lunch and helping the five friends clean the classroom, as kids do in Japan, visitors followed each of the five friends home to learn about their families.  Visitors explored Aisa's grandfather's tofu shop, where they learned about Japanese cuisine.
They visited Ken's traditional bedroom, with tatami and a futon and a place to explore Japanese calligraphy.
Sakiko's modern bedroom, where she shared her manga comics, and her devotion to fashion:
Shoko's family living room, where she shared her passion for music and wagashi, a traditional Japanese sweet treat.
And Yasuke's yard, where visitors practiced aikido with the help of a "shadow master":
The exhibit debuted at Boston Children's Museum and then traveled to children's museums across the nation.