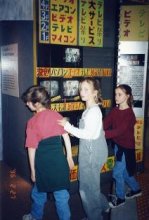 Teen Tokyo evolved from the Museum's desire to present a more modern view of Japan than that presented by The Japanese House.  The Japanese House represents a traditional way of living that is rapidly disappearing in Japan, thus its presence in the Museum can create a misleading impression among visitors about daily home life in Japan today.  When Japan Program Director Leslie Bedford spent a year in Tokyo on a Fulbright fellowship, she returned to the Museum determined to find a way to tell a fuller story about Japan. Teen Tokyo complemented the House by presenting contemporary Japan and the ways it was similar to the rest of the industrialized world, showing what it had adopted from the world, and what aspects of it had been adopted by others.  The Japanese House showed visitors what is unique about Japan, while Teen Tokyo showed what we had in common—especially youth culture.
Visitors entered the exhibit through scenes of Tokyo at night, into a Japanese subway station, and onto an iconic subway car.
And exited into downtown Tokyo, where the various districts were presented, including Akihabara, the discount electronic district.
Cultural borrowing was a major theme of the exhibit. It was particularly on view in the area representing the Shibuya district, the shopping area.
Twelve life-size photos of Tokyo teens greeted visitors and displayed their own answers to questions about the universal themes of growing up: friendship, love, body image, dreams, and parents.  Other areas were devoted to manga (Japanese comic books), language, school, karaoke, and Sumo wrestling.