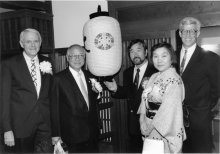 Boston Mayor Ray Flynn issued a proclamation declaring the day Shukuten Appreciation Day. The City of Kyoto donated lanterns with their emblem on them. Massachusetts Governor Michael Dukakis attended the event, which included performances of Japanese dance and music.
Left to Right: Consel General and Mrs. Kensaku Hogen, Governor Michael Dukakis, Alford Rudnick, Yori Oda, Mrs. Sadanobu Oda
Textile artist Yasuko Yabe designed a special tengui (head cloth) for the event.  She is shown here as the tengui is placed on Museum Director Ken Brecher. 
[main picture: Former BCM Director Michael Spock, Kiyoshi Yasui (carpentry firm director), Masaru Kumagai (architect), Museum Trustee Yori Oda, Museum Director Ken Brecher]