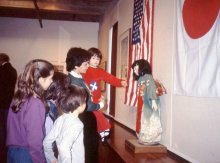 At nearly 60 years old, Miss Kyoto (see entry for 1928) needed some repair.  Doll conservators in the United States were unfamiliar with the materials and the methods necessary to repair her correctly, so she was sent back to Japan, where disciples of her original maker, Goya Hirata, could make the repairs. 
She was packed into a special box by art handlers.
After that, she was loaded onto a plane at Logan Airport for her journey to Japan, accompanied by Japan Program Director Leslie Bedford, who did not have to ride in the hold of the plane.
When they got to Kyoto, there was a big ceremony at City Hall.  The Governor of Massachusetts, Michael Dukakis, and his wife, Kitty, joined the celebration with the Mayor of Kyoto, seen here holding Miss Anne, one of the Blue-Eyed Friendship Dolls sent to Japan by the United States in 1926.  Two of the women who had written letters that accompanied Miss Kyoto when she left Japan in 1927 for Boston were also at the ceremony.
The Yoshitoku Doll Company in Tokyo did the conservation work on Miss Kyoto.  It took several months of very careful work, using lots of different materials to restore her to her original beauty.